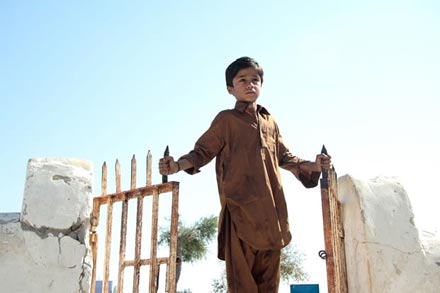 Talking might be against good movie manners, but when the first shot of a place in Thar Desert appeared on the wide screen in front of us, Talha leaned towards me and whispered, "Man, I want to visit this place."
This is the first impression of Ramchand Pakistani that you get: it's visually stunning. Though for me, it was the second impression; more on the first impression later.
Mehreen Jabbar certainly does not disappoint with her first feature film. She already enjoys a well-deserved reputation as a TV director, and with Ramchand Pakistani, she has proved again that she knows what she does.
I am sure you all know what the film is about. Shankar and his wife, Champa, are Dalit Hindus who live in a small village of the Thar Desert near the Pakistan-India border. One day, their eight year old son, Ramchand, accidentally crosses the border and is arrested by Indian authorities. Shankar follows his son and gets arrested as well. Rest of the movie keeps switching between Shankar's and Ramchand's harsh experiences in an Indian jail, and Champa's gloomy helplessness as she waits for her husband's and son's return. All of this might not have been that big a deal, but for the three of them, the timing couldn't be worse: it's 2002, and both Pakistani and Indian armies are on high alert.
At first, it might seem that Ramchand Pakistani is going to address the political relationship between Pakistan and India, and will throw a Hindu family in just to kickstart the political ramblings. But actually (and thankfully), the film is more about a family torn apart due to unfortunate circumstances between two neighbouring nations. Politics only enter to let the viewer know why this family has to suffer the way it is suffering. Yes, there are many lines (specially in the jail scenes) about Pakistan-India relationships, but those are similar to the gossip we do sitting in our homes' drawing rooms. At times of high tension like the one mentioned in the film, everyone will talk about it, and so do the characters in the film as well.
As Mehreen Jabbar explains in an interview, the synopsis of the story was "discovered" by her father, Javed Jabbar (Pakistan's former Minister of Information), when he met a father and his son in the Thar Desert. The screenplay that was then build upon that synopsis by Mohammad Ahmed is quite impressive. One might argue that people living in the Thar desert do not speak such clean Urdu as Champa does (or if they even speak Urdu), but one might also ignore it in favour of poetic license.
Acting in Ramchand Pakistani is absoultely superb. Young Syed Fazal Hussain is very convincing as the eight year old Ramchand, and I found his non-verbal expressions (like the glares he shoots at prisoner guards) pretty impressive. Also remarkable is the performance of Navaid Jabbar, who plays the four years older Ramchand, and considering that this is the first time he has ever acted, he makes a solid impression. Rashid Farooqui as Shankar is terrific as always, and Nandita Das as Champa is also brilliant. Shahood Alvi as the Muslim prisoner superintendent, and Noman Ijaz as Abdullah (a Muslim man Champa gets infatuated with after her husband's disappearance) are also a treat to watch. And, of course, there is Maria Wasti as Kamla, the police officer who cares for Ramchand in the prison even though he is a Dalit, and whose tongue fires obscenities at anyone who dares to cross her. (There was an entire row of girls ahead of ours in the theater, and their giggles resonated every time Kamla insulted someone.) Other actors who portray different prison inmates also do their parts well. In particular, I liked Saleem Mairaj, who gives a strong performance as a disturbed artist, sketching and eating pictures of Bollywood actresses torn out of magazines.
The background score was also awesome. Shafqat Amanat Ali Khan and Shubha Mudgal use their vocals to make the viewer feel for the characters. The score also includes some folk Sindhi songs, which simply elevate the watching experience.
One thing that I didn't like about Ramchand Pakistani is the narration at the beginning and at the end. The person who voiced the narration has a famous voice, which is heard in most TV advertisements, and is probably the same person who provided the voice for Commander SafeGuard. In Ramchand Pakistani, however, he seems to be doing just that: narrating lines for an ad and not for a movie. Call me weird, but that was the first impression I got of the film, that Mehreen Jabbar could have used a better person for narrating the opening and ending lines. Talat Hussain, for example.
All in all, I enjoyed watching Ramchand Pakistani. It's simple, tells the story well, and unlike Khuda Kay Liye, it doesn't try to force its message upon its viewers. Do watch it if you can, but make sure you don't get your seats behind an entire row of giggling girls, who for the first half an hour or so, kept discussing why someone from their group wasn't there yet. Talking in theater sure is bad movie manners.
(Picture taken from official website of Ramchand Pakistani.)