"Foxy Shahzadi"
A few days ago, Shahzeb shared a link on Facebook about "Foxy Shahzadi", a 1974 Beetle, which has been decorated with truck-art and is currently being driven from Islamabad to Paris by a French Dr. Vincent Loos. Dr. Loos wishes to portray a better image of Pakistan, and believes that Pakistan is not all about terrorism. I, with many others, agree.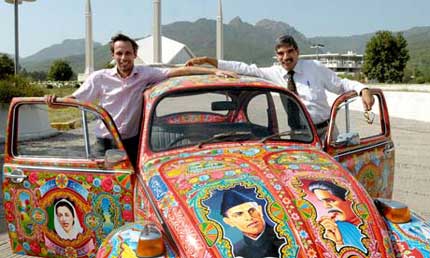 Here is the Beetle's story on The Guardian, and here is the earlier coverage by Dawn. And if you would like to follow the Foxy Shahzadi's journey (named "Art on Wheels tour"), here is its blog. (The above photograph was taken by Dawn's Tanveer Shahzad.)
By the way, Shahzeb, get back to blogging, will ya?
25 random things about me
In other news, I have been tagged by Falsa to write down 25 random things about me.
I have done similar tags in the past, so this time I am going to repeat some of them. Here goes.
I get thirsty after brushing my teeth.
My favourite season is autumn.
I had my first computer when I was in the 8th grade (about 13 years ago). Abbu ji had bought it for us siblings so that we could "learn computing". It used to run Windows for Workgroups 3.11, and also had a fax modem with a bitrate of 14.4 kbit/s. I never used that modem. (Yeah, I missed out.)
My first gaming console was Atari 2600 Jr., and my favourite game back then was Moon Patrol. (I now wish, though, that I had played this version, instead of this.)
I can roll my tongue.
While writing with a pen, I don't like to place its cap on its butt. I either keep the cap in my other hand, or put it somewhere nearby.
Responsibilities scare me.
I have labelled each step of the staircase in my home as either a "right-foot-step" or a "left-foot step" (in my mind, of course), and I rarely put my left foot on a right-foot-step, and vice versa.
I read Slashdot.
I used to play a lot with dinky cars in my childhood.
I feel uncomfortable to sleep in pitch black darkness.
I am a morning bird.
I love typography. Sadly, I am not as good at it as I would like to be.
I like collecting title soundtracks of all those TV shows that NTM used to syndicate.
I have never worn a sherwani. (When I previously mentioned it, No One told me not to worry and assured me that "[my] time will come".)
I like running. I used to run even on extremely cold mornings in good old days. I hope I'll be able to resume it.
I have been wearing spectacles since I was 11 years old.
I was once addicted to Tetris.
My first email address was on Hotmail. I soon switched to Net@ddress and kept using it until they cancelled their free subscriptions.
I love reading dedications, prefaces, and acknowledgments in books.
When I was a child, I used to have a fear of sitting in a movie theater. My parents tell me that I had developed this phobia after watching King Kong in the cinema. (They don't remember which King Kong movie it was.)
I am a fan of Tintin.
I had once written a detective novel that was so pathetic that I never showed it to anyone except my siblings.
I have been using the same mobile phone for the last 4 years. No, I don't have any emotional affiliation with it.
I like fog.
From Google with Love
Like everybody else from Blogistan, I have also had my share of amusing keywords and phrases that people enter in Google and then land on my blog. Here are the highlights from the past 7 days:
pics of beautiful cows in mandi
very beautifull qurbani bakra
adult imran series
its boring time now what should i do pakistan
studies on time wasters
What to say at an awards ceremony
ESSAY ON LOVEMY CONTORY IN URDU
need shehzore on rent
what is meant by name aabi
nd when u find yourself lying helpless in her arms u knoww u really loved a woman
As I said in an old post, keep searching.