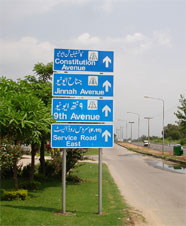 I have no idea what the CDA guys had in their minds. Maybe they were trying to transliterate "9th", but seriously, did no one there realize how it would be read?
Maybe a simple نائنتھ would have done. Or, perhaps, even a blunt نواں could have done the job (though I agree that if read in Punjabi, it would mean "new"), but somehow the creative minds of CDA came up with ۹ نتھ (literally meaning "9 nose rings"), and even if it was an error, it went unchecked among all the "highly qualified, experienced and capable professionals". Just like when, some time back, they transliterated دامنِ کوہ as "Damn-e-Koh", damning the poor recreation spot.
Ah well, what can I say. Maybe they'll correct it after some time. Till then, good luck to me and everyone else who plans to go to the avenue of 9 nose rings.