Let's have a poll. Raise your hand if you have wanted to own a telescope.
And no, don't raise your hand if you have wanted to own a telescope for, uh, "spying" on a certain person from your neighbourhood or school or office or wherever you hang out. This poll has nothing to do with your stealthy anthropological studies.
So again, raise your hand if you have wanted to own a telescope. If you haven't raised your hand, rest of the post might bore you to death. You've been warned.
I have always wanted to own a telescope. I don't exactly remember when I realized that I should have one, but it was probably years ago, when I had read Stephen Hawking's A Brief History of Time, particularly the following opening lines of its third chapter:
If one looks at the sky on a clear, moonless night, the brightest objects one sees are likely to be the planets Venus, Mars, Jupiter, and Saturn.
The possibility of seeing another planet with the naked eye (albeit just as a bright spot) had made me excited beyond words. I used to just go to our home's roof at night, and then stare at the night sky like an idiot. Okay, is that Jupiter or Saturn? Must be Jupiter, it's very bright. Oh, and what about that one? Mars? No, Mars is supposed to be red, this one's white. Okay, wait, that spot is red, and it's blinking! Oh come on, you stupid giraffe, that's the light of an aeroplane.
Needless to say, it soon became boring. I had no way to confirm whether the Venus I was seeing actually was the Venus. The only success that I'd had was in 2003 when Mars made its closest approach to Earth in 60,000 years. Mars was then the only bright red object in the night sky, and I actually felt happy when I was able to spot it.
Then began my quest for buying a telescope. I surfed through the web, looking for suggestions and reviews, and was eventually very disappointed. A student getting a modest sum of pocket money from his Abbu ji can't really go and buy a telescope, you see. But there was still hope. I could browse through all those astronomy websites and try to find out using the geographical coordinates of Rawalpindi/Islamabad if or when any planets would be visible. It turned out that that idea was good only in theory; in practice, I was still looking at the sky and trying to figure out if the websites meant that bright object or that one.
Fast forward to last Monday, and meet Stellarium.
Stellarium, as it says on its website, is an open source software that "shows a realistic sky in 3D, just like what you see with the naked eye, binoculars or a telescope." Now if you had raised your hand in the beginning of this post, you must have guessed that Stellarium is now installed on my machine. You might also guess that I have fallen in love with it. (Okay, make that an infatuation.)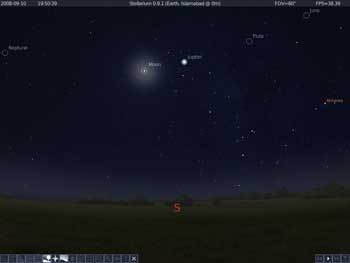 If you click on the screenshot above, you'll know why I am going all ga-ga over this piece of software. The red S indicates that we are facing south. At the top, you'll notice "Islamabad", which is the location that I set as default. And in that starry sky, two objects are very visible. One is labelled Moon, the other is labelled Jupiter.
That's right. I took one look at the view provided by Stellarium, then looked outside my room's window to spot the Moon, and with it, Jupiter. No fiddling with coordinates given by some website, and no wild guessing. Stellarium just told me that that bright spot on Moon's right is good old Jupiter. Talk about hitting jackpot.
You might notice that the screenshot also shows Pluto and Neptune, but they are not visible. If you wish to see them, just zoom in. If you wish to see them outside your room's window, then… well, buy a telescope (sigh).
Of course, that's not all that there is to Stellarium. It's still in its beta state and is already loaded with so many features. (See the feature list and screenshots, if you are interested.) I am slowly exploring it, and I am hoping that with its help, I shall finally be able to locate the Northern Star and the "Great Bear" that my middle school science books always talked about but I could never identify.
Though I have to admit, knowing all (or most, or even some of) the starry details of the night sky suddenly makes it look all academic, and all thoughts of taron ki cha'on and chandni raatein vanish temporarily, if not completely. I mean, imagine two lovers sitting on a bench and the female cooing, "Oooh! Look at that star near the moon! It's so bright!", and the male replying after a slight pause, "Actually, honey, it's not a star. It's a planet called Jupiter."
I guess not having a telescope does have its advantages.