It's official: I am a fan of Gary Hustwit.
I am also a Vespa scooter. But this has nothing to do with being a Hustwit fan.
Or maybe it has.
I was introduced to Gary Hustwit when I had seen his directorial debut, Helvetica, a documentary film about typography, graphic design, and Helvetica. The wealth of information and perspective that Helvetica had to offer, combined with Hustwit's brilliant direction, was enough to convince me that documentaries don't have to be boring. So naturally, when I came to know that Hustwit's next documentary, Objectified, has been released, I couldn't wait to see it.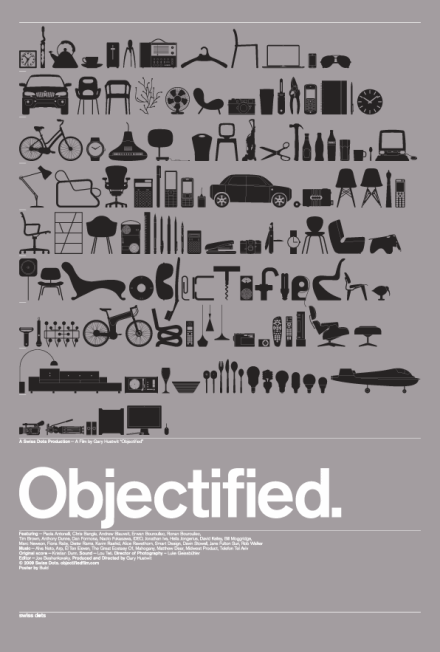 In simple words, Objectified is about objects and the people who design them. If you want to be more sophisticated, Objectified is about industrial design. And if you want to be more verbose, Objectified is about all the objects that we see around us, and discusses the way they are designed, the way they are used, the way they are valued, and the way they are discarded.
After watching this movie, you won't look at any object the way you used to look at it earlier. Even if for a short while, you will wonder about the handle of your toothbrush, or the toothpick that you use, or the gadget that you buy, or the cars that you drive, or the chairs that you sit in. It's simply amazing how all of the objects that we use everyday have gone through so many design iterations and changes and we don't even think if there's a complex design process associated with them. I mean, really, have you ever wondered why a spoon looks like the way it looks? Or more importantly, how a spoon was given the shape that it looks like? Someone, somewhere, had sat down and assessed the merits and demerits of a spoon's shape, and even though it appears to be a trivial task, it is certainly not.
Just like in Helvetica, Gary Hustwit manages to bring some influential designers in Objectified too, and their comments and views are refreshing, entertaining, and thought provoking. Each and everyone of them has something unique to offer — I personally liked the design principles stated by Braun's Dieter Rams (examples: "Good design is honest" and "good design is as less design as possible"). There are discussions about an object's sustainability and how it clashes with a manufacturer's objective of selling, and people's lenient attitude towards poorly designed objects. Also, being a software guy, I was excited to note the mention of software interfaces in Objectified, but then reminded myself later that software design is after all just a small topic under the vast umbrella of design.
Another interesting thought that I related to was stated by Rob Walker near the end, who noted that the objects that we really hold dear to ourselves are not necessarily those that are better designed, but those that have a personal story attached to them. Or, perhaps, they are those objects in which we see a bit of ourselves (this bit of wisdom belongs to yours truly, not to Rob Walker, so don't take it too seriously). In fact, PBS even have an interesting quiz (which came online at the time of Objectified's US television debut) that tells you which object you are. I turned out to be a Vespa scooter.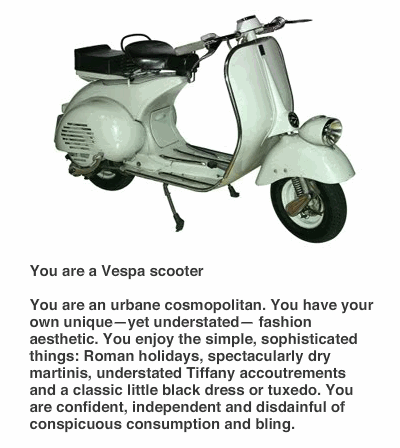 I am actually quite pleased with the result; my late Nana ji used to drive a Vespa scooter.
So, anyway, you may or may not be a design buff, but if you get a chance of watch it, don't miss Objectified.
And Gary, I am waiting for your third film.