Revision 1 (2012-12-12): Updated screenshots to show examples in Windows 7. A few additions for Myth 3.
Revision 2 (2013-10-08): Corrected dead links.
Don't you just love the word "digital"? I mean, it's catchy, geeky, and trendy — all at the same time. These days if you want to make something look hip and cool, you prefix it with digital — digital clock, digital photography, digital audio, digital art, digital digital — because, well, digital means that a computer is involved, and computers are magic, of course.
It so happens, then, that we have digital Urdu as well. Urdu is the national language of Pakistan, and being Pakistanis, we have a very sacred code of treating everything that is national: we throw it down the waste bin.  I digress. Digital Urdu, of course, refers to Urdu as it is used with and on computers. In this Information Age™ where everything is being digitized, Urdu has also seen its digitization, which has unfortunately been severely overlooked or ignored by a majority of Urdu speaking world. The regular consensus seems to be that using Urdu on computers is, in a word, difficult.
And this, dear readers, is absolute baloney.
I am going to present below some common myths about digital Urdu, and I am going to debunk them, one by one, piece by piece. Hold your breaths, ladies and gentlemen, here we go.
(But before we go, a little note. I will be referring to Microsoft Windows, because it is the most widely used platform. This doesn't mean that the following debunking does not apply to other platforms, like Linux or Mac. In some cases, they easily beat Windows.)
Myth 1: Writing Urdu on a computer can only be done in InPage
Those of us who had computers back in the days of Windows 98 would remember that Urdu could only appear on our computer's monitors using that particular piece of software called InPage. Now, InPage is, according to its vendor's website, "an industry standard Page Making software for Urdu and related languages". Hmm.
Thankfully, we don't live in the days of Windows 98 anymore. This is almost 2010, and we have much, much better ways of writing Urdu on our computers. Nowadays if you want to type Urdu, you do not require a piece of software with a long list of features that you absolutely do not need. Also worthy of mention is the fact that InPage locks. you. down, by making interoperability of Urdu text with other applications a royal pain in the ass.
Don't believe me? Take a look at the screenshots below. First one shows Notepad.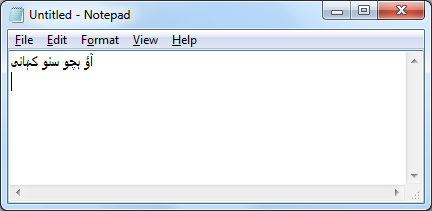 And this one is WordPad.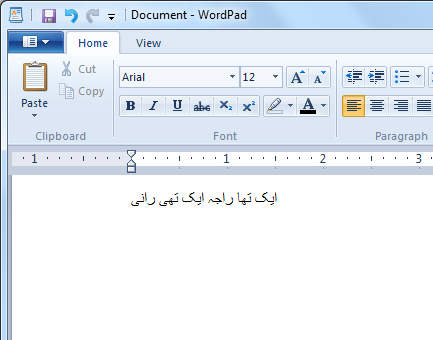 Paint.
Microsoft Word.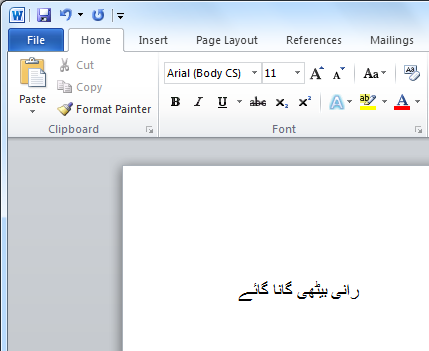 Even the 'Run' dialog.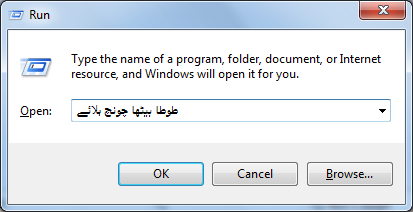 Seeing is believing, isn't it? Which brings us to the next myth.
Myth 2: Digital Urdu is ugly
"Urdu in the above screenshots is horrendous. Even my handwriting is more legible than that!"
Fair enough. How about this one?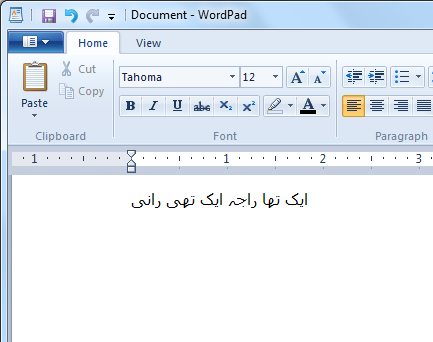 "I'll again prefer my handwriting."
And this one?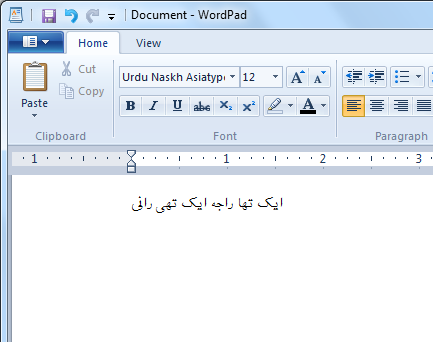 "Better. But it's still bland, sorry."
Will this work?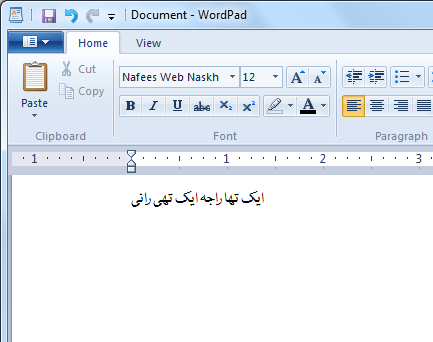 "Interesting. But something's really missing. Can't I have nastaleeq?"
You mean, this?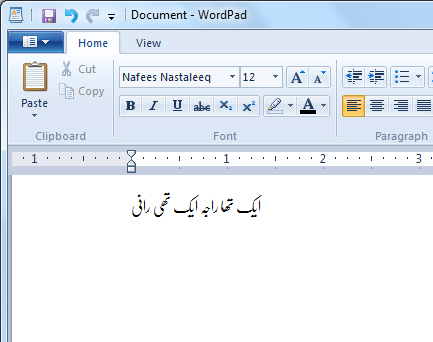 "OMG! Ponies!!!"
If you've been looking at the above screenshots closely, you will notice that the font has been changing in them. That's right, ladies and gentlemen, we have Urdu fonts, and "pretty Urdu" on your screens is just a matter of installing an Urdu font which supports your idea of "pretty". Let me repeat a part of the previous sentence: you can install Urdu fonts in your computer. Yes, Urdu fonts are not really large in number, but you won't be needing most of them anyway, and yes, we have nastaleeq too.
"But the nastaleeq font in the above screenshot doesn't look like Noori Nastaliq of InPage."
Yes, it doesn't. And I, for one, am actually glad that it doesn't look like Noori Nastaliq; I am quite tired of it.
For those of you who just can't imagine digital Urdu set in a typeface different from Noori Nastaliq, there are two fonts that can help: Alvi Nastaleeq and Jameel Noori Nastaleeq. The origin of these two fonts is shady (and thus, interesting), but right now I won't go there. That, and Urdu fonts in general, are coming in a future post.
Anyway, I personally recommend that a person wanting to read and write Urdu on his or her computer should have the following fonts installed: Urdu Naskh Asiatype (aka BBC Urdu font), Nafees Web Naskh, and Nafees Nastaleeq. And fine, throw in Alvi Nastaleeq and Jameel Noori Nastaleeq too (because, well, they are useful), and you have more than enough for your routine Urdu needs.
Now that we have the matter of ugly Urdu settled…
Myth 3: Installing Urdu support in operating system is hard
Can you click on a button? Can you select/de-select check boxes and radio buttons? Can you select a value from a drop-down list? Can you download files from the Internet? Can you copy a file from one location and paste it into another? And can you follow simple instructions?
Seriously, people, it's not as difficult as you think. For reading Urdu on your computer, you just need the correct fonts, and installing new fonts is a piece of cake. A simple search on Google will give you hundreds of links for installing fonts in your computer.
For writing Urdu, you need an Urdu keyboard layout. And while the installation of a keyboard layout might require you to download it first and then visit those areas of your computer's operating system that you have never visited before, it really is a matter of just following simple instructions of clicking this and selecting that (or, in the case of modern platforms, just a matter of running an installer). Again, a simple Google search like "urdu keyboard layouts" or "urdu on <your platform here>" will provide many helpful links and tutorials. Heck, even I have got instructions for installing Urdu support in Windows XP and Windows 7 right here on this blog.
So, yes, in order to install Urdu support, you will have to install some fonts and may have to access some unfamiliar regions in your operating system, but that doesn't mean that it is going to be hard.
(Update 2012-12-12: For those of you running Windows, there's a Pak Urdu Installer that takes care of everything for you; you just need to download and then run it.)
Myth 4: Typing in Urdu is difficult
Do you remember the first time you sat in front of a computer and tried to type your name? And do you remember how you couldn't find a certain alphabet on the keyboard? But now you don't really search for an alphabet, do you? Now you just put your fingers on the keyboard and type away merrily.
So I ask: what really happened that took you from searching-a-specific-key to typing-with-a-respectable-speed?
And I answer: you practised.
You might not have practised consciously, but that is what you have been doing during all the time you have been chatting with your friends, completing your school assignments, posting on message boards, writing your blog posts, and so on. Thus, the only thing that you need to do in order to improve your Urdu typing skills is to practise.
"But I don't know which Urdu alphabets are mapped on which keys in my keyboard layout!"
Well, all keyboard layouts (rather, all good keyboard layouts) will provide you with a nice chart showing all the mappings and associations that you need to know. Use that chart as a reference when you are trying to "find" a key. Also, most Urdu keyboard layouts are phonetic, that is, they try their best to map Urdu alphabets on phonetically similar English ones. So, for example, س is mapped on S, and پ is mapped on P. Once you start typing, it won't take long to get a hang of it. But you do have to start typing first.
Installing Urdu support can be kinda intimidating, yes. But typing in Urdu is not difficult, no.
Some interesting links
Now that the debunking is over, it's time for you to start clicking. First, click on the links I have included above and explore. I'll wait.
Back? Okay. Here are a couple more links:
Type in Urdu – Google Transliteration: You might not want to install any support for Urdu in your operating system because you might not need to type any Urdu content. However, in case you ever have to write a little bit of Urdu, Google can help you by magically transliterating your Roman Urdu into the right script. Try it yourself… follow the link, select Urdu from the languages drop-down list, and type a word in Roman Urdu (e.g. salam), then type a space and watch your Roman Urdu transform into proper Urdu (

سلام

). Groovy, isn't it? (Keep on typing and Google will transliterate your last word when you'll insert a space.)
Online Urdu Dictionary: Self-explanatory.
Bottom line
Just try to remain faithful to your national language. Whenever you have to use it in a digital medium, use your operating system's (or outside) support and write your Urdu verse, stanza, poem, quote, proverb, document, blog post, whatever in its proper script. Don't romanize it. Sure, many of your readers may not be able to see your Urdu words "properly" (because it's likely that they won't have the correct fonts installed), but you can include a link to the right font, can't you? Don't let your concerns about "ugliness" stop you from writing your language in its true script, and don't be afraid to learn some new tricks for it if you have to…
Seriously, your future generations will thank you for it.