About a week ago, Salman called me. "Bhaijan," he said, "your blog has been hacked."
I blinked and frowned at the same time. "Really? It was fine yesterday."
"Check it out," he instructed me. 30 seconds later, I was watching the following scroll on my blog's home page: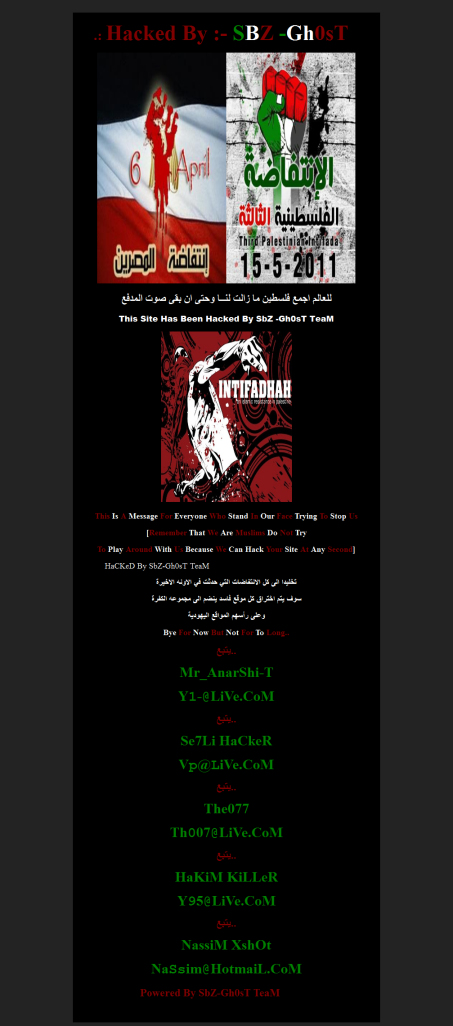 I couldn't figure out if I should laugh or cry. That someone had hacked my blog was such a bizarre fact that I couldn't wrap my head around it. "Is my blog really this important?" I humoured myself, considering that this ulta seedha corner receives what can be called peanuts in terms of visitor traffic. Then I tried to recall if I had inadvertently offended any Palestinians in the recent past; I couldn't remember. (In fact, now that my blog is back up and running, I did a Google search to find out if I had ever mentioned Palestine on my blog. I found only one hit — that too in the comments, and which is too innocent to be considered an incentive.)
Anyway, first thing to do was to find out if I could access the backend of my blog. Quite expectedly, I couldn't. I then tried to log into the administration area provided by my web host, and succeeded. Next step was to deny every request to my blog so that innocent googlers would not be shocked. Finally, (since I had to get it out of my system) I ranted about it on Twitter: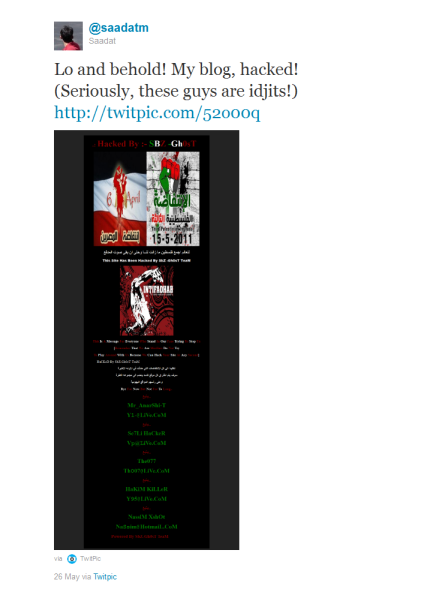 Restoring the blog back to its original state took a whole afternoon. For those interested, it involved nuking everything on my web host, reinstalling WordPress, restoring the database, reinstalling my theme, reinstalling/reconfiguring all plugins, and hardening the whole setup. Here are a couple of lessons learned:
WP-DB-Backup is a self-hosted WordPress blogger's best friend (and so is good old fashioned file backup).
Keeping WordPress updated to its latest version is absolutely essential. I have a hunch that my blog got hacked because I was too lazy to update to the latest version. It looked minor, but it was a security update; I should have applied it.
As for the reason why this blog became a target for a hack, I have no idea. My guess? Some script kiddies thought that that would be funzors.