Google never forgets to send its love near both Eids. And while Eid-ul-Fitr is a relatively innocent affair of flowers and sweets and cards, Eid-ul-Adha is all about unleashing the force of the Bakra.
Lo and behold! The latest (at the time of this writing) keyword analysis for this ulta seedha corner of the big bad Web (I filtered keywords not related to Eid) :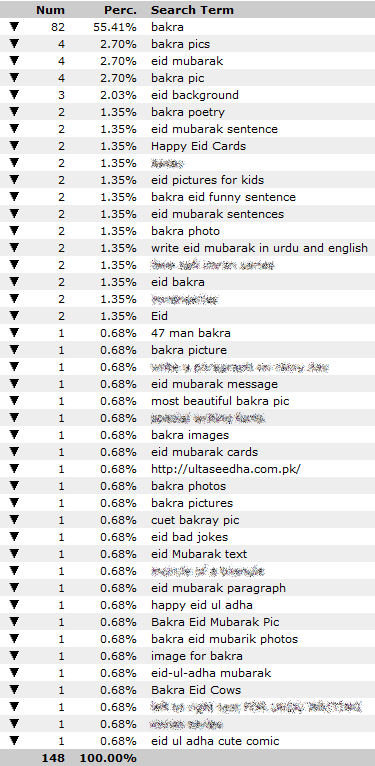 And here are my two paisas:
bakra: I can totally understand why this is the most frequent keyword. Here's what I would try to say, though: while bakras are the most popular animal of choice for most people, this Eid is called

بَقَرہ عید

, and not

بکرا عید

. I hope I've made my point.
bakra pic(s), bakra photo(s), bakra picture(s), bakra images, image for bakra: Here you go. They are great, aren't they?
most beautiful bakra pic: See the post title. Good luck.
cuet bakray pic: See the post title. Wait, I have got one!
bakra poetry: So sorry, buddy, I only know of one couplet (from Iqbal's

گائے اور بکری

):


؎ یوں تو چھوٹی ہے ذات بکری کی
دل کو لگتی ہے بات بکری کی

And this one from Anwar Maqsood:

؎ دیکھ کے بکری کو اِک بکرے نے کہا اے جانِ عزیز
اب کے ہم بچھڑے تو ممکن ہے کبابوں میں ملیں

write eid mubarak in urdu and english: In Urdu: "

عید مبارک

". In English: "Happy Eid". Always glad to help.
bakra eid funny sentence: I'll leave this one for my readers.
eid mubarak sentences: Well, uh, how about these: "May this Eid bring to you joy, prosperity, and bakras", and (it's cliched but always spot on) "

لاڈو صابن بنانے والوں کی جانب سے اہلِ وطن کو دلی عید مبارک

".
eid pictures for kids: Wait, what? There are separate Eid pictures for kids and adults? Should there be?
47 man bakra: I have no idea what this means.
http://ultaseedha.com.pk/: I know, not related to Eid, but I felt like including it. It's a good one, you know.
eid bad jokes: This… doesn't sound good.
eid mubarak paragraph: Do your own homework!
Bakra Eid Cows: Read the first bullet; it's Baqarah Eid.
eid ul adha cute comic: This keyword came from *dramatic pause* Australia! Dude, whoever you are, I genuinely hope you weren't disappointed.
Eid Mubarak, everyone! Enjoy the spirit of sacrifice and the tikkas.