Coughing sprees, backaches, partial success with tasks at work, and an overall state of haziness. Add them all and the result you'll get will have "slow blog updates" written all over it.
Yes, I know, I have never been quick at posting updates (except on some miraculous occasions), but I just wanted to say the above. Feels good to vent.
So anyway, even though I said in my most recent comment-reply that an update would come hopefully on the weekend, I am being efficient and posting some links below; they are Ulta Seedha's current update. Boy, I am clever.
Wheee! I took a quiz!
Most of you might not be that passionate about fonts, but when I saw a quiz titled "What Font Are You?", I just couldn't resist.
And just like a true fan, I am *drumroll please* Helvetica!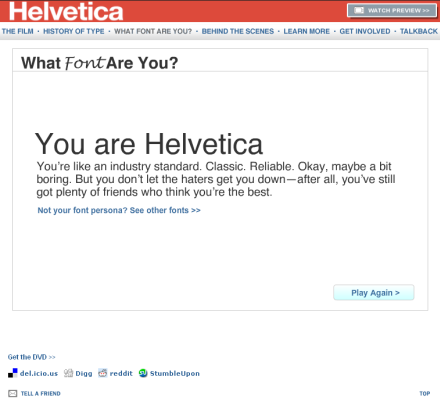 Classic, reliable, and boring. Yep, that's me.
Make sure you check out other font results as well. They are good.
Some
xkcd

brilliance

For some very strange reason, I keep going back to this comic and reading it. For some another very strange reason, I have never bothered to save it to my machine's harddisk and always read it on its website. But anyway, just click on the link and enjoy it (even if you don't understand a word/pixel of it).

Warning: Geek or no geek, ignore the comic's tooltip. I am not going to explain anything about it. It has also nothing to do with the very strange reasons.
The Dark Knight – Joker interrogation scene spoof
Okay, so you either loved it or hated it. The movie, that is. (If you hated it, close your browser. I don't want to talk to you anymore.)
There's some guy out there who made a pretty nifty spoof of the Joker interrogation scene from The Dark Knight. It's not "insanely hilarious", as some comments on YouTube will tell you, but nonetheless, it's pretty funny. It's very possible that you've seen it before, but what the heck, see it again. It's worth it. If you haven't seen The Dark Knight yet, then… well, see it in that case as well. A little laugh doesn't hurt anybody.
This is just a heading
… because there's nothing to write in here. The post ends.