One of my most favourite academic possessions in middle school used to be my geometry set.
I still remember that light blue, shiny plastic case, with "Dux" printed inside a dark blue circle on its lid. In those days, anything from Dux used to be a status symbol, whether it was a simple eraser or an "ink remover"; even Staedtler couldn't attract as much envy as Dux. Dux just used to declare out loud that the students carrying its products take the straightness of their lines and the roundness of their circles seriously.
Not to mention that compasses, and specially dividers, from Dux could also be utilized as accurate weapons. Accuracy was everything when you wanted to plant a compass under the seat of your "enemy" — quick and lethal, but also subtle. Sleight of hand, of course, was also important, so that you could swiftly recollect your compass, taking advantage of the ensuing chaos in the classroom after your enemy would jump two feet into the air and start rubbing his butt while yelling like a yeti.
But anyway, this post is not about such misadventures. It's about a certain method that we discovered while doing geometry exercises.
I don't know about others, but I actually used to enjoy drawing all those triangles and circles using just a sharp pencil, a compass, and a ruler. Somehow, it just felt magical to align the ruler, draw some lines, use the compass to draw arcs and circles, and then see some geometric figure appear on the paper. It was like constructing a small house, brick by brick. The sense of accomplishment used to be overwhelming at times.
Take the following figure, for example…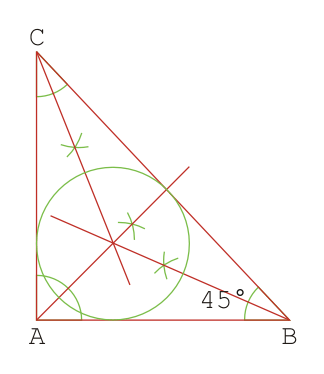 It's an inscribed circle, or incircle, of a given triangle. (Everything drawn with the help of a ruler is red; green elements use the compass.) Now an incircle is a circle which is inside a triangle and touches all of its sides. Simple enough. You start by drawing the triangle according to the specification given in the exercise in your textbook. Next, you bisect all the angles of that triangle and find the point where the bisectors meet. You then take that point as the center of the incircle, and adjust the angle of the hinge of your compass so that the radius of the circle you are about to draw equals the distance between that point and any of the triangle's sides. Finally, you draw the circle. Clean. Perfect. Magical.
Unless — yes, there is an unless — something goes wrong, which used to happen quite frequently.
Most of the time, it used to be the compass. Your enemy's butt would sometimes damage its accuracy by making its hinge go loose, or by disturbing the alignment of its pin. A price that you just had to pay.
So instead of that perfect figure above, you could end up having something like below. (Notice that the incircle is not touching the side BC.)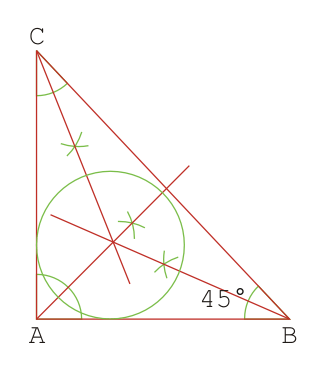 At this point, me and my mates used to have two options. One, erase the unsuccessful drawing and start again. From scratch. This used to take a lot of our time. To add to our misery, Murphy's law also used to spring in action, making matters worse and keeping us frustrated.
Second option was to cheat. But we didn't like the word "cheat", so we rephrased it. We started calling it "the commando method".
Here's what you do in the commando method. You erase the side BC carefully. Again, the eraser from Dux used to come handy with its sharp edges. (Staedtler erasers also used to work fine in this case.) You then redraw it, and make sure that it touches the incircle.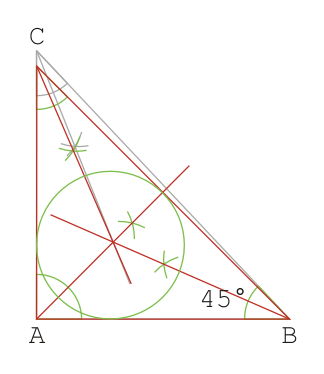 Clean. Perfect. Magical.
Of course, the commando method demands some changes in rest of the figure as well. For example, a slight change in angle B, decrease in length of the side AC, and adjustment of the bisector for angle C.
But thankfully, our math teacher used to be a human and not a robot. She could spot the difference between an angle of 45 degrees and an angle of 40 degrees, but not between angles of 45 and 46 (or 45 and 44) degrees. Similarly, addition or subtraction of some millimeters in the sides of the triangle would also escape her usually hawk-like eyes.
This, however, is the simplest case for the application of the commando method. Consider, for example, the figure below. It needs a certain level of experience with the commando method in order to get this figure right.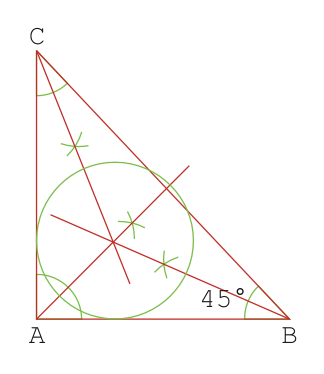 And finally, the commando method would completely fail if you end up with something like the following figure on a lined notebook.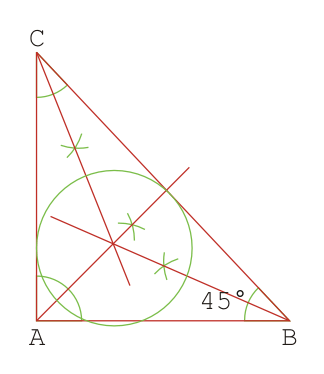 Why, you ask? Because the base of the triangle was always drawn by us on a line in our math notebooks. Re-adjusting the base would move it away from the line, and that literally screamed "CHEAT!" at our math teacher. If, however, a blank page is being used, then the commando method can be applied without any hiccups. (But if someone is competent enough to draw the base of a triangle without any help from a line already present on the page, then s/he shouldn't probably be needing the commando method anyway.)
With the passage of time, we learnt to apply this method for other exercises in geometry as well. Later on, we extended it to forge proofs of our work in the physics lab. Optics experiments, in particular, provided a magnificent playground for the commando method. In optics, some experiments included erecting a couple of pins on a sheet of paper, then looking at the images of those pins through a glass slab or a prism, and then aligning those images with another set of pins, which actually meant that we were tracing the path of the light rays through that glass slab or that prism. Commando method used to save us all the touble: we would start with drawing the resulting figure by copying it from our textbooks (with all the correct angles and all), and then poke pins on its lines, successfully indicating that the figure was drawn after the images of pins were aligned, when in fact, we hadn't aligned any pins at all.
And believe me or not, we actually learnt a great deal while applying the commando method. Concepts of optics, such as refractive index and critical angle and other things from the same tribe, made much more sense to us after we cheated on their experiments. Honestly. We knew exactly what to do during our physics practical exam in matric, and nobody among us scored below 20 (from 25). Nobody applied the commando method either.
Now it's been so long that I have used the commando method, that I miss it.
And I miss Dux as well. Some months before matric, there was a swarm of fake Duxes in the market, and the real Dux also disappeared somewhere, with the quality of its products declining. I have no idea who the current market leader is for geometry sets these days. And come to think of it, I don't have an idea about anything these days.
If only I could apply the commando method to understand not just optics, but other things as well.