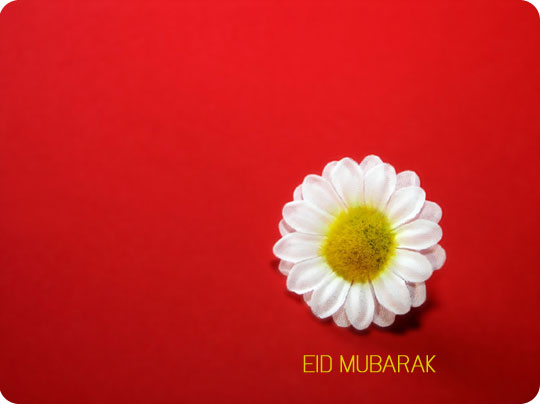 What does a silk daisy on a red background has to do with Eid?
Actually, nothing. But the red in this photo is so gorgeously bright and energetic—and since Eid is all about being bright and energetic—I thought that that would make a good Eid image. Also, at least for me, the photo is quite cheerful, and on Eid we ought to be cheerful.
(I do hope, however, that the red does not remind people of Tapal danedar. Gasp!)
Anyway, it's Eid time, people. And Eid is too precious an occasion to waste by thinking about a white daisy on red, or about Tapal danedar, or whatever. Go and have some fun: Poke your elders for Eidi; stuff your stomachs with sheer khorma; call your friends; send nasty text messages like "eid ayee zamanay mein, <recipient's name> gir parra/parri ghusal-khanay mein"… you get the idea!
And do send some Eidi this way!
Eid Mubarak!

P.S. While you're having fun, check this out as well.
(Photo Credit: Marja Flick-Buijs on stock.xchng)