When I was first introduced to the concept of essay writing in 1st grade, I had taken it as some exercise for memorizing and then reproducing a certain amount of text. Technically, this was not different from other "academic" things at that time — literally everything that we were "taught" in those days was meant to be "learn[t] by heart" and then reproduced in the examination without missing a single comma or a full stop. The only thing that changed as we moved to higher classes was the length of the essay, which in 1st grade used to be 5 to 10 lines, and by the time we reached 4th grade, two and a half pages of a foolscap sheet used to indicate a highly articulate (or as we then used to think, 8/10) essay. Of course, we never dared to improvise on our own except that one time in 2nd grade when I thought to impress my teacher while writing an essay on "My Country", and added "Karachi is the biggest country of Pakistan" before ending the essay with "I love my country very much."
It was in 3rd grade when our teachers slowly but steadily started to challenge our writing abilities by leaving gaps in their dictated essays and letting us fill those gaps on our own. As a result, new realizations started dawning upon us. For example, I discovered that the hobby I was extremely passionate about was stamp-collection. I also discovered that my favorite sport was not cricket, since everybody in my class had declared that they would write on cricket. Always trying (and failing) to be different from others, I thus chose to write on field hockey. And since our teacher had asked us to mention also our favorite sportsman from our favorite sport, I suddenly found that I loved the way how Shahbaz Ahmad Sr. dribbled the ball, and thus crowned him with the honor of being my favorite field hockey player.
In 6th grade, we were blessed with a strict disciplinarian of an English teacher, and it was after I left that school that I realized what a tremendous teacher she was. She would just sit there in her chair and ask us to come forward with topics on which an essay could be written. After the whole class would agree on one topic, she would give us a brief overview about it, and that's that. No dictations, no spoon-feeding. We would finish our essays over the weekend and then recite them one by one so that the whole class could listen, and she would point out the strengths and weaknesses of our masterpieces. Of course, at that time, the thought of reciting our essays to the strictest teacher of the school used to scare the hell out of us, but the process did make us learn.
I should probably mention at this point that my intention today was not to give out tips on essay writing, as some might conclude so from the title of this post. In fact, for a graduate student, my essays are still very childish, and giving out pointers on writing good essays will be a very neem-hakeem'ish thing for me to do. The real purpose of writing all the stuff above was to provide you with a preamble for the actual content of this post, which you can see by clicking on the images below.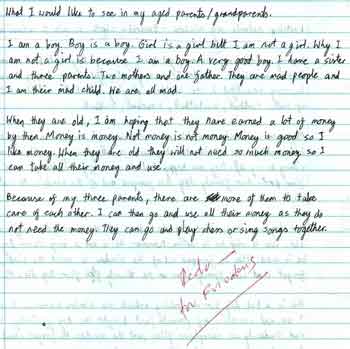 These masterpieces were forwarded to me by a friend a long time ago, and I came across them today while browsing through the contents of my machine's hard disk. I just wish I had the spontaneity of that child, whoever he is, who has written these essays. His teacher might think that he needed to focus on the title (and, let's be honest, his teacher is right), but I am willing to bet that even my strict English teacher wouldn't have denied that that child has got style.
Of course, she would also have crossed his essays with her trademark slash of red ink. She was, after all, a strict disciplinarian.