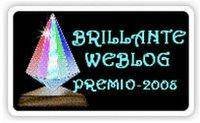 Greetings, ladies and gentlemen. I welcome you all to the Brilliante Blog Awards Ceremony.
I have never hosted any awards ceremony before, so I have no idea what to say. A few words on the awards history, maybe?
But first, please allow me some room for narcissism. (Yes, yet again — it's a hat trick now.) You see, a blogger can host a Brilliante Blog Awards ceremony only if s/he has received one. Mahwash, of Assorted Mundanities, has very graciously awarded me with the said award. Here's her announcement:
Saadat, for the topsy turvy and a very cool template.
Considering that her blog posts make a lot more sense than mine ever do, I am very, very honoured. Thank you, Mahwash.
Also, it will be unfair not to thank the talented photographer, Esther Groen. She probably doesn't even know that an apples picture that she took (and then generously gave away as royalty free stock) has become almost the identity of this ulta seedha corner.
Coming back to the awards ceremony and its history then, here are the rules:
The purpose of the prize is to promote as many blogs as possible in the blogosphere.
When you receive the prize you must write a post showing it, together with the name of who has given it to you, and link them back.
Choose a minimum of 7 blogs (or even more) that you find brilliant in their content or design.
Show their names and links and leave them a comment informing they were prized with 'Brilliante Weblog.'
Show a picture of those who awarded you and those you give the prize (optional).
And then we pass it on!
Here we go then, ladies and gentlemen. The Brilliante Blog Award goes to (in alphabetical order):
An enthusiastic round of applause for all of them!
Also, I wish I could include more names (and the rules do say that I can) in the above list. I couldn't, because some of those names have already deleted their blogs, some have enabled password-protection, and some… well I just didn't want to leave anyone out and make you read a huge list, so I forced myself to listing just seven bloggers. (It's just like passing the tag, you don't want to miss anyone!) Still, I appreciate each and every one of them, because they have always been sources of inspiration and learning for a dunce like me.
All right then, ladies and gentlemen, thank you for coming and attending the award ceremony. Take care of yourselves and enjoy the refreshments!